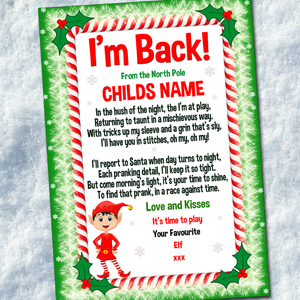 Elf Arrival Personalised Letter A4 Size

Personalised with your child's name.

 Unlike anything your child is likely to see elsewhere they are distinctly different and designed with children in mind. Names are large and the letter is an A4 High Luxury Gloss letter.
It can be sent in either an A5 envelope which means it will be folded and placed in a card backed envelope or at request we can send it in an A4 Large Letter Card backed envelope.
Printed on A4 High Glossy Photo 120 gsm lightweight paper.